8 hours
Trip to Sviyazhsk and the Temple of all religions
270 €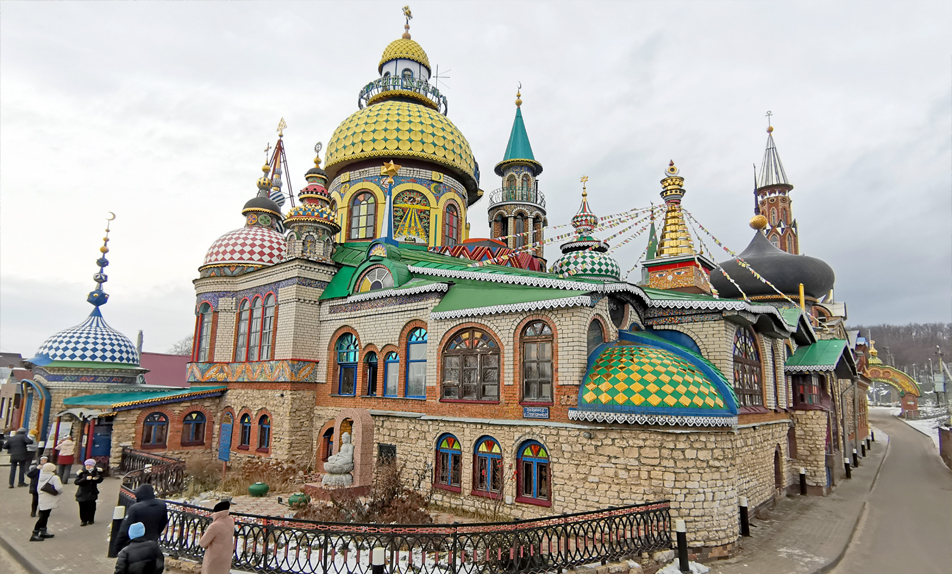 270 € (prepayment: 0%)
 Group size: 1-3 pax;
 Duration: 8 hours
 Start: on demand
 Comfort:
 Difficulty:
 Highlights
After the breakfast you meet with your tour guide in the hotel lobby and start your tour to the attraction in the outskirts of Kazan. The first stop is the colorful temple basically known "Temple of all religions" on the Volga river coast. Since 1994 it truly became the architecture symbol of the diversity of world cultures and religions. In one masterpiece you can recognize features of Russian Orthadox, Catholic, Islamic, Jewish and many more. So it deservedly can be considered as a local "Sagrada familia" since construction is in progress to this day. Inside of temple you discover numerous rooms and galleries designed in its own unique style and surprise you with different decorative features.
At the next stop you find yourself in a medieval town located on the small island of Sviyazhsk, a lovely place with impressive and historically significant architecture. It has been transformed over the centuries. It was learned that the island was the strategic place where Ivan the Terrible built a wooden fortress without a single nail within just four weeks, an incredible feat. Along with it you enjoy 37 unique historical and cultural monuments on the island, including two monasteries and churches. One of them recently entered the the UNESCO World Heritage List.
Following lunch, on the way back to Kazan you proceed to the "Chak-chak" museum, where you feel yourself like in a Kyoto tea house but in Kazan where tatar hostesses in traditional dress reveal the secrets of making traditional tatar sweet "Chak-chak". Later on you are also invited to a tea party with chak-chak, baursak, and Tatar pastila. After the tour you return to the hotel.
Cost for a private tour for group 1 to 3 persons in ammount.
The cost includes:
tour-guide services,
transfer by car,
entrance tickets to museums,
taxes and fees
These tours could be interesting