3 hours
Moscow metro Tour and Stalin-Period Skyscrapers
36 €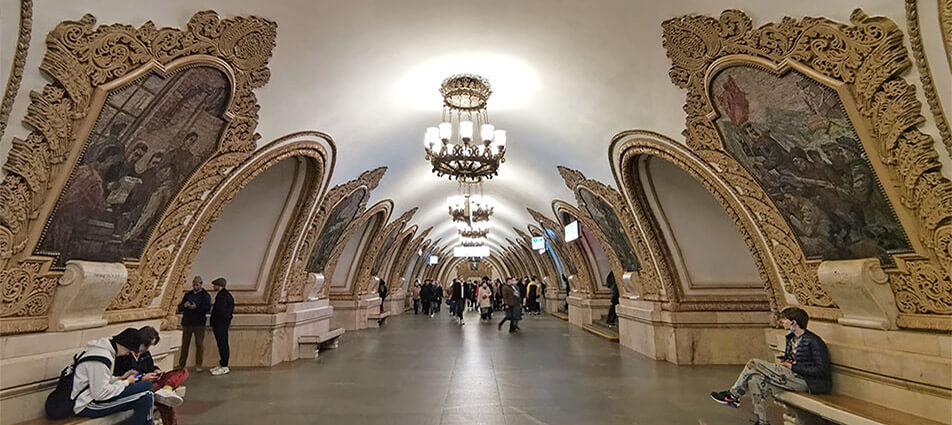 36 € (prepayment: 0%)
 Group size: 4-10 pax;
 Duration: 3 hours
 Start: on demand
 Comfort:
 Difficulty:
Destinations: | Russia
 Highlights
You will see the Moscow Metro - a marble and granite work of art. You will admire the gorgeous Stalin-time skyscrapers, the great heritage of the Soviet era.
What you see and do:
You will see some magnificent examples of the Soviet architecture and learn a lot about them.
You will visit the most stunning and famous metro stations.
You will discover three out of seven skyscrapers built during the Stalin period and learn for what they are used today.
You will learn a lot about life in the USSR and the lifestyle of ordinary Russians during that period.
You will taste a fresh Russian pie and tea and share your impressions with our guide.
Details
Join our special Moscow Metro Tour to learn more about the architectural style of the Soviet Russia period! Our guide will take you for the metro tour. The Moscow underground is a museum in use, or even a palace everybody uses every day. It is much more than just a way to get from point A to point B. Along the way you will explore some of the magnificent stations. After that you will admire some of the most gorgeous-looking skyscrapers built during the Stalin period.
After lunch you will take the metro to discover its beauty. Some stations look gorgeous decorated with sculptures, lamps, mosaics and frescoes. You will hear the history of the metro and learn a lot about the way it was constructed.
The Seven Sisters – that's how those skyscrapers are referred to. You will have a closer look at three of them: The Ministry of Foreign Affairs, the Leningradskaya Hotel, and the building near Krasnie Vorota (the Red Gate). You will enter one of them to see the interiors and listen to the stories and legends about these amazing buildings.
In the end you will enjoy a cup of tea and a pie in one of the cozy cafes in the downtown.
If you think that the itinerary is too hard to understand because of the abundance of the historical facts, don't worry! This is definitely not! Our experienced guides know how to turn any historical fact to an amazing story. You will learn a lot about the lifestyle of Soviet people, what they used to wear and eat, what they used to do in the leisure time and what issues they had to cope with. To put it simpler: you will learn about life as it used to be. The Moscow Metro Tour is amazing. Use your chance to take it!
The cost includes:
English-speaking guide for the whole day.
Metro tickets
Fresh pie and a tea
What is not included
Personal expenses and tips
Additional food and beverages
Extra information: free for kids up to 6 years of age
These tours could be interesting
3 hours

Comfort
Difficulty


7-8 hours

Comfort
Difficulty